THE COMPANY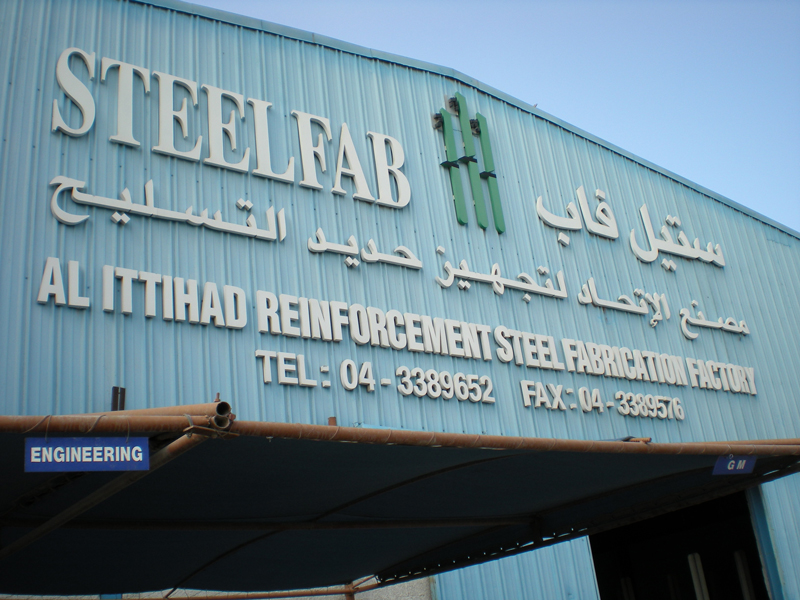 AL ITTIHAD REINFORCEMENT STEEL FABRICATION FACTORY (STEELFAB)
Established in 1994 as one of the business units of the SULTAN GROUP INVESTMENTS LLC, a local group of companies who are into contracting, furniture and decoration, pharmaceuticals, software solutions and much more.
STEELFAB was the first company in Dubai and the Northern Emirates to offer a complete cutting and bending service for reinforcing steel. Through the years, it has established a reputation in the market to become the leader in the pre-fabricated reinforcing bar, because of its strong recognition to professionalism and to quality, both in terms of product and services. It has a production capacity of 7000 MT / month.
Hence, all our raw materials (High Tensile Reinforcement Steel Bar) sourced from CARES APPROVED/I.S.O. 9001 certified mills conforms to the specifications given hereunder:
a) BS4449/2005 Grade 500B
b) ASTM A615 Grade 60
In keeping with our policy of Total Quality Management, Steelfab takes pride in being an I.S.O. 9001 certified company. This accreditation also encompasses IMS Certification.
As Construction companies in the U.A.E. come to appreciate the advantages of pre-fabricated Re-bar, our service is increasingly being utilized by the market leaders in the construction industry in the U.A.E., which has resulted in us working alongside the major consulting Engineers